Colored Powder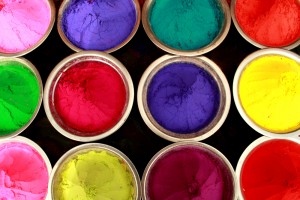 Festivals                         Special Events                         Running races
Make APG part of your next party or event.
Our Party Powder can make your event one to remember for years to come.  Whether you are throwing it into the air, coating the bride and groom with their favorite color, or simply having a colorful powder fight.  Our clothes-friendly FDA approved powder will make your event a blast and easy to clean up.
At APG, we create a unique blend of Party Powder that can be used for a variety of events.  These powders are provided in a vibrant array of colors and can be purchased in small packets and in bulk.
All powders are not created equal.
We specialize in creating the safest USA made color powder in the world and the pricing is very affordable.  This powder stays airborne and temporarily sticks to you and your clothing.  All materials are food-grade corn starch approved by the FDA and formulated for an easy clean up.  Although our powders come in an array of vibrant colors, the dye does not stain and 95% can be brushed off afterwards and the rest simply washed out.
With our custom runs, we can provide either a fine or dense powder for your fresh party idea.
Whatever your Party Powder is used for;  a birthday party, photo session, or any social gathering or celebration, we provide you with what you need to make the event something no one will forget.
We provide all the colors of the rainbow, and some of the ones in between.
Colors Available
Red
Yellow
Pink
Green
Purple
Orange
Blue
An array of non-traditional colors including black and white.
Package Size and Delivery Time
Bulk = 50 lb Boxes
Packets = 3 oz packets
Lead Time:  Custom runs are 3-5 weeks.
While we keep a good stock of some of the most used colors, custom colors typically take 3-5 weeks to create and deliver the product.