Environmental Friendly
Usage & Performance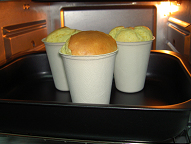 Microwave and oven friendly up to 450 F&deg (230 C°)
Freezer friendly down to -13 F&deg (-25 C°)
Water and oil resistant
Good insulation:  maintains hot/cold foods at desirable temperatures
Acid resistance:  no discoloration , distortion, and leakage
Custom Size/Shape Cooking and Baking Trays
Made from sugar-cane leaves and pulp, these trays are amazing.  Our trays can do anything and everything a regular baking tray can do and more.  Oven baking and microwaving are a cinch with these oven/microwave safe cooking trays.  They can even go into your refrigerator and freezer.
Hygienic Sterilization with high temperatures and UV light make these trays the perfect addition to you or your friends kitchen.  With custom sizes and shapes  these cooking trays can fit a variety of manufacturing requirements.
Making Your Kitchen a Greener Place.
Our cooking/baking trays are made from sugarcane leaves & pulp, a bi-product of sugar harvesting.  This is a renewable source every growing season.
Our Sugar Cane Trays
Are 100% decomposable
Use absolutely no wood or fossil fuels
They produce no waste (liquid, solid, or gas)
Reuse any excess trimmings
Allow for recycling of excess water
Are not bleached or coated
Our trays are so natural you can even eat them if you'd like, though we wouldn't really recommend it. They don't taste very good.